The past few months, I've heard quite a few storm stories.
I'm not talking about weather-related storms but real life storms that people are facing. Storms such as sickness, financial difficulties, job loss, loss of a loved one. In other words…life-changing events.
The type of stories that make your heart hurt for them and you wish there was a way for you to make it all better. The type of situations
that
urge you to pray for them. Not just to say "I will say a prayer or you will be in my prayers" but that you really, really mean it and you follow through and do it. And, you trust that the prayer will be answered in the manner that it should.
These storm fighters are hurting and some feel hopeless.
They yearn for encouragement and hope.
This inspired me to create my Inspiration Series located under the Galleries tab in the top menu. This will be a
series of my photographs with inspirational and humorous messages. There will be more to come so stay tuned.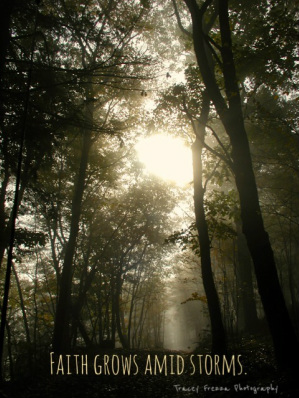 Faith cannot be unanswered.
Her feet were firmly planted on the Rock;
Amid the wildest storms she stands undaunted,
Nor quails before the loudest thunder shock.
She knows Omnipotence has heard her prayer,
And cries, "It shall be done," sometime, somewhere.

Unanswered yet? Nay, do not say ungranted;
Perhaps your part is not yet wholly done.
The work began when your first prayer was uttered.
And God will finish what He has begun.
If you will keep the incense burning there,
His glory you shall see, sometime, somewhere.
--Robert Browning