A page from my book "Rise and Shine".


Patients are a Virtue

Waiting rooms at doctor's offices are interesting places. Nowadays, many are furnished with comfy sofas, table lamps, televisions and WIFI access to give the feel of one sitting in their own living room. Instead of family members, these oversized living rooms are occupied by people we never met before. Different types of people sit in these faux living rooms.

First, we have the "line talkers". They talk to everyone. These are the folks who stand behind you on the line at the grocery store and strike up a conversation, thus the title "line talker".

Secondly, we have the "readers". These people arrive with book in hand and are prepared to wait in the waiting room.

Lastly, we have the "smarties". Focused on their smart phones, smarties come in two different flavors: texters and talkers. Texters conduct virtual conversations quietly. The double thumb method is the most commonly used method.
Talkers carry on phone conversations, thinking nobody in the "living room" can hear them because they have the phone covered with their hand, not realizing they have created a mini-megaphone.

One day while I was waiting in one of these rooms, I observed a sleeper. The sleeper was an older woman and she slept peacefully in an oversized cozy winged-back chair. I was glad that this woman found solace and comfort in that chair.
A chair that sat in the waiting room of an outpatient cancer center. Behind the walls of the waiting room, someone she cared about was either getting treatment, a scan, or blood work. But what really caught my eye were her eyeglasses. She wore rose-colored glasses. Not only were the frames rose-colored but the lenses were as well. This struck a chord with me. I thought to myself, that's what we need to do while sitting in a cancer center. We need to look at life through rose-colored glasses!

We need to have a bright outlook even when things appear dark. Difficult times give us the vision to see things from a different perspective. Difficult times build character. They build faith. They build strength. And they certainly make life interesting!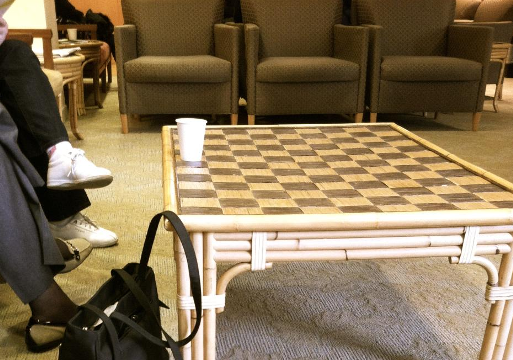 Some random folks "chillaxin" in the faux living room.